Welcome to Sipi Falls Tours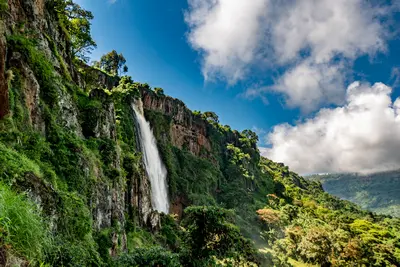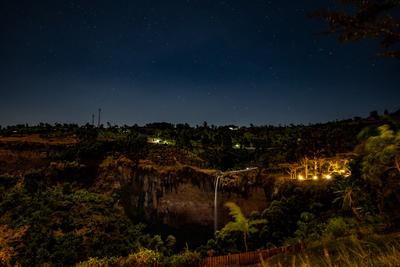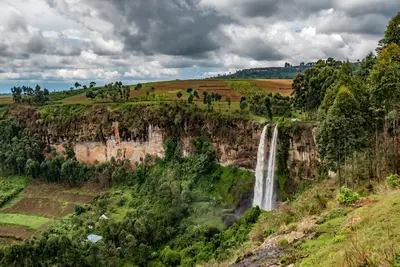 Welcome to Sipi Falls Tours
Hikers paradise
The Sipi Falls is a series of waterfalls and are located in eastern Uganda on Mount Elgon. Mount Elgon was once one of the highest Mountains in the world, but due to erosion the top of the mountain collapsed and created a huge caldera. Today Mount Elgon is one of the National Parks in Uganda and offers several different activities.
Mountain trekking is one of these activities, but also lots of different hiking opportunities. The climate is moderate and it is possible to climb the mountain throughout the whole year. Even though during the rainy season it can become a wet experience.
The Sipi Waterfalls offer many interesting shorter hiking trails. You can go just for a short hike to one of the falls, or you can do the whole route with all 3 waterfalls, which can fill several hours. Once you stand on the top of the waterfalls watching down the slopes of Mount Elgon you will feel the magic of this region.
While hiking the trails, you will pass through several plantations of local farmers. You can learn a lot about the local community and the local way of life. You will have a chance to visit local farmers and learn a lot about Arabica coffee, which is grown on Mount Elgon. You will have the opportunity to do a coffee tour, where you can experience the whole process of coffee, from planting to brewing.
If you are looking for some more fun and adrenaline, you can experience abseiling the Sipi Falls. The drop is around 100 Meters with an amazing view. You will have a one-of-a-lifetime experience at this beautiful spot.
You are most welcome to join us for some activities in Sipi and enjoy a wonderful time with us. If you are looking for accommodation, feel free to reach out to us, and we will give you all information you need.
We will show you all the highlights of our beautiful region. If you have a little more time, we can show you as well the Sisiyi Falls, which are very beautiful and amazing as well.
Wildlife in the East of Uganda is as well very interesting and the is the Pian Upe Wildlife Reserve just about 1,5 hours away from Sipi. If you wish to encounter several wild animals, like Cheetahs, Giraffes, Zebras, different Antelopes like the Roan Antelope, Elans, Jacksons, Uganda Kobs, and others, and a huge variety of birds, we will be happy to take you there and show you this beautiful place.
Pian Upe has been marketed very poorly and most tourists skip this Wildlife Reserve, not knowing what they are missing out on. It is very possible to visit Pian Upe on a day trip while you're staying in Sipi. Once you visit the eastern part of Uganda it is a good opportunity to visit Kidepo Valley National Park for a safari. We are also happy to take you there if you wish. We can help you too with any other national park in Uganda as well, of course.
Feel free to contact us. We will make sure, you will have a wonderful time in Sipi, exploring the Sipi Falls.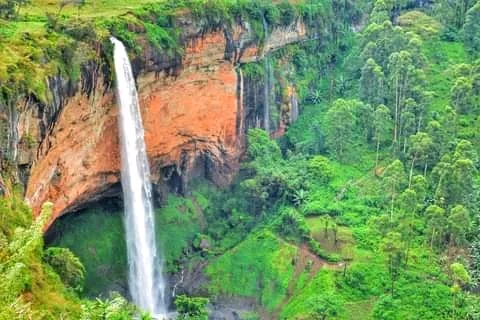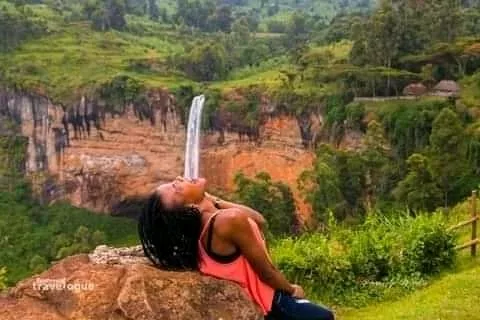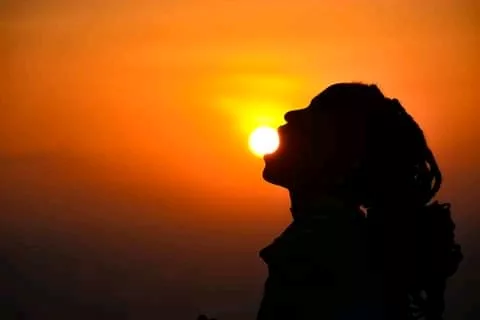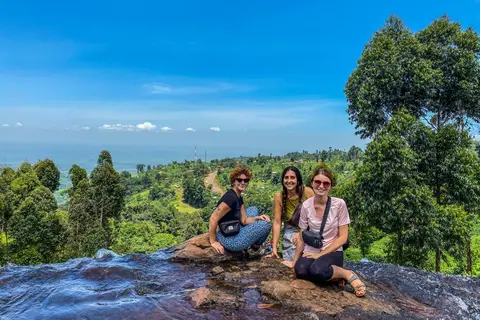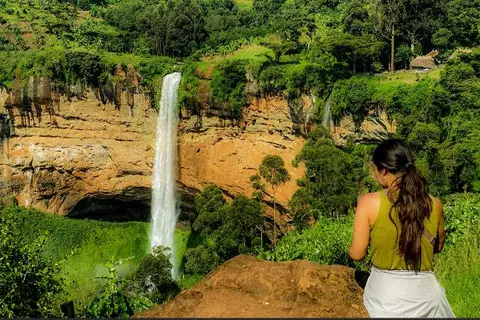 NOTE: Sometimes I am getting a lot of Spam that causes emails to get lost. In case you do not receive any response to your email from me, please contact me on Whatsapp, or send a second email.
About Sam and Sipi Falls Tours
I am Sam, the tour guide in Sipi Kapchorwa, well known by many visitors.
I am specialized in guiding guests to teh famoues Sipi Falls and around, who visit Sipi to fully engage in the community, showing the best places off the beaten tracks.
Hiking to the Sipi Falls with me is a unique experience you won't forget easily.
You will enjoy the roaring waterfalls, plantations, local farms, forests, and magnificent views.
About Kapchorwa, Mount Elgon, and Sipi Falls in Uganda
Actually, Sipi falls is located in a district called Kapchorwa about a 6-7 hour drive by taxi or bus depending on the traffic around Mukono and Seeta, by self-driving, it can take 4-6 too depending.
This journey brings you to the hidden treasure of the east in Mount Elgon at the border of Uganda/Oeganda and Kenya through Mabira forest. Passing Jinja, where the river Nile starts its journey as the longest river in the world.
Mbale city welcomes you with some beautiful slopes of Mt Elgon behind it as you embark on your journey to the mighty little hiker's paradise in Sipi falls for about an hour's time from Mbale city.
Kapchorwa is a district on Mount Elgon, and the word Kapchorwa means home of friends in the local language.
The people staying up in this mountain are only two tribes and the dominants here are the Sabiny with a very little percentage of Bamasaba/Bagisu in Mbale city both famous for their finest Arabica coffee in the world market!
The Sabiny people extend up to Kween and Bukwo districts and they speak a language called Kupsabiny if you don't want to forget it you say (cook some beans).
Even the bottled water you drink in some lodges or hotels in Uganda has the word Aqua Sipi and it has a meaning in our local language still, the word Aqua Sipi means, "come to Sipi" in Kupsabiny language.
Kapchorwa got their district in February 1962 before Uganda's Independence Day 9th October 1962. The population of Kapchorwa at the time of independence was 48,700 compared to now around 123,800.
Also in 1952, Sir Andrew Cohen who was the governor in Uganda up to 1957 was invited to Mbale by Semei Kakungulu a Ugandan statesman and a founder of the Abayudaya community in Uganda in 1917. Semei Kakungulu studied and meditated on the Old Testament and adopted all of Moses's commandments including circumcision and suggested all this observance to all his followers.
The visit of Sir Andrew Cohen in Mbale also ended up in Kapchorwa Sipi falls where he got in life with the falls, weather, and the landscape and he did not stop just from admiring, he went back and later returned and requested the community for a small piece of land at the main Sipi falls viewpoint now called Sipi falls lodge, he was given the land and he started to build a small house with 2 bedrooms, sitting room with a fireplace inside the house, self-contained and named it Sipi Rest Camp because his intention was to rest from here after his work.
He later started writing letters to his family friends and other people encouraging them to visit Sipi falls of course, after staying and eating they have to pay some money and this was given to the community after his contract in Uganda got finished, he advised the local community to put more cottage's because he saw some increase in tourists coming and later the community started renting this whole camp to different people for a small period of time and up to now you can also rent it and enjoy a great time in Sipi.
Kapchorwa is also a home district for one of the long-distance runners known as Stephen Kaprotich a marathon gold medalist for men in the Olympic Games in London 2012.
Since the Sabiny people were cattle keepers before the nearby Karamojong raided their cattle, they termed it in 2020 summer Olympics when they sent their beloved son Joshua Cheptegei to Tokyo for the 5000ms that he has gone to bring back our cows because the word Tokyo in our language also means our cows.
Inside Sipi, there is a small center called Kapkwirok but nowadays everyone calls it Sipi because it's easy to remember, the word Kapkwirok means a place where people in the community come together and have meetings and the next village is Chema where you find a factory Kawacom Sipi falls wet mill for coffee. And Chema in our local language means fire and it's believed that fire started from here because if you go back in the days, you will find that the man who called himself Kintu a mythological figure who appears in a creation myth of the Ugandan people of Buganda, Uganda. And according to these legends, Kintu was the first person on earth and the first person to wander the nature of Uganda alone imagine that. And if you go deeper in history it's possibly believed that this first Muganda (Kintu) must have originated from Mount Elgon and the local people think this fire 🔥 remains they found in Chema must be related to Kintu.
Naming in this region of Kapchorwa, Sipi falls.
Names were given depending on the location, time, season, Christmas, and sometimes if there is an event.
Names.
1 Sammy >means born in the bush.
2 Cheptegei >born on the Veranda.
3 Sukuku >born on Christmas.
4 Cherop >when it's raining.
5 Chebet >born in the daytime.
6 Cheptoek >when visitors are at that home.
7 Chelimo >when they are bringing cows back home from the bush.
8 Cherubet >born when there is famine.
9 Cherotin > was born on a banana plantation.
10 Amwanyi >born on a coffee plantation.
11 Chesakit > given to a person whose mother only took local herbs to conceive him/her.
Nicknames in Kapchorwa, Kween, and Bukwo.
1. Ndeetee> means a person who eats a lot of Matoke.
2. Mawe > A person who is so hard to realize something.
3. Wakabe > A person who is so hard working.
4. Kaswayik> A person who is a womanizer, Kaswayik is a bird with a long tail called pine tail whydah and this bird is also a womanizer and I believe birders know this!
5. Sundet > A person who eats only fatty meat.