Welcome to Sipi Falls Tours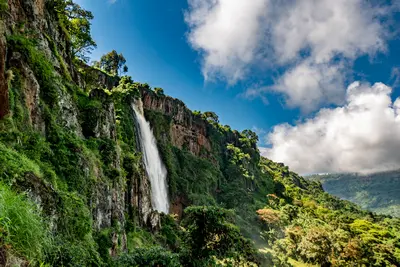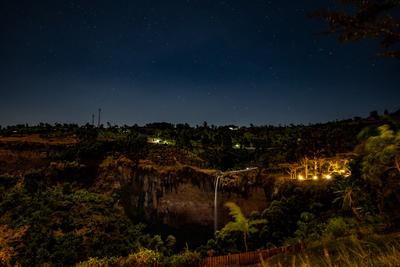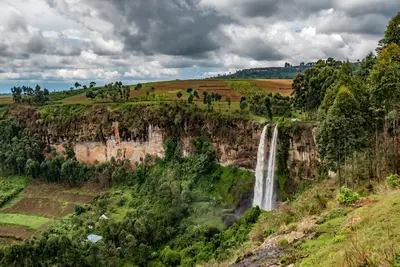 Welcome to Sipi Falls Tours
Hikers paradise
The Sipi Falls is a series of waterfalls and are located in eastern Uganda on Mount Elgon. Mount Elgon was once one of the highest Mountains in the world, but due to erosion the top of the mountain collapsed and created a huge caldera. Today Mount Elgon is one of the National Parks in Uganda and offers several different activities.
Mountain trekking is one of these activities, but also lots of different hiking opportunities. The climate is moderate and it is possible to climb the mountain throughout the whole year. Even though during the rainy season it can become a wet experience.
The Sipi Waterfalls offer many interesting shorter hiking trails. You can go just for a short hike to one of the falls, or you can do the whole route with all 3 waterfalls, which can fill several hours. Once you stand on the top of the waterfalls watching down the slopes of Mount Elgon you will feel the magic of this region.
While hiking the trails, you will pass through several plantations of local farmers. You can learn a lot about the local community and the local way of life. You will have a chance to visit local farmers and learn a lot about Arabica coffee, which is grown on Mount Elgon. You will have the opportunity to do a coffee tour, where you can experience the whole process of coffee, from planting to brewing.
If you are looking for some more fun and adrenaline, you can experience abseiling one of the Sipi Waterfalls. The drop is around 100 Meters with an amazing view.
You are most welcome to join us for some activities in Sipi and enjoy a wonderful time with us.
About Sam and Sipi Falls Tours
I am Sam, the tour guide in Sipi Kapchorwa, well known by many visitors.
I am specialized in guiding guests, who visit Sipi to fully engage in the community, showing the best places off the beaten tracks.
Hiking with me is a unique experience you won't forget easily.
You will enjoy the roaring waterfalls, plantations, local farms, forests, and magnificent views.