Welcome to Sipi Falls Tours
Hikers paradise in Uganda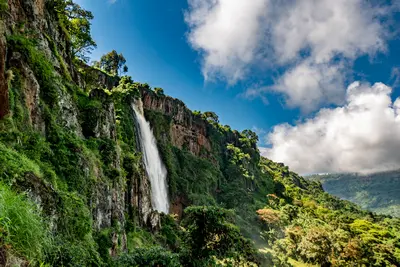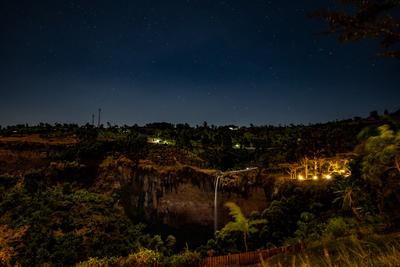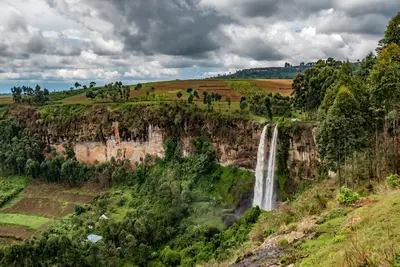 Welcome to Sipi Falls Tours
Hikers paradise in Uganda
The Sipi Falls is a series of waterfalls and are located in eastern Uganda on Mount Elgon. Mount Elgon was once one of the highest Mountains in the world, but due to erosion the top of the mountain collapsed and created a huge caldera. Today Mount Elgon is one of the National Parks in Uganda and offers several different activities.
Mountain trekking is one of these activities, but also lots of different hiking opportunities. The climate is moderate and it is possible to climb the mountain throughout the whole year. Even though during the rainy season it can become a wet experience.
The Sipi Waterfalls offer many interesting shorter hiking trails. You can go just for a short hike to one of the falls, or you can do the whole route with all 3 waterfalls, which can fill several hours. Once you stand on the top of the waterfalls watching down the slopes of Mount Elgon you will feel the magic of this region.
While hiking the trails, you will pass through several plantations of local farmers. You can learn a lot about the local community and the local way of life. You will have a chance to visit local farmers and learn a lot about Arabica coffee, which is grown on Mount Elgon. You will have the opportunity to do a coffee tour, where you can experience the whole process of coffee, from planting to brewing.
If you are looking for some more fun and adrenaline, you can experience abseiling the Sipi Falls. The drop is around 100 Meters with an amazing view. You will have a one-of-a-lifetime experience at this beautiful spot.
You are most welcome to join us for some activities in Sipi and enjoy a wonderful time with us. If you are looking for accommodation, feel free to reach out to us, and we will give you all information you need.
We will show you all the highlights of our beautiful region. If you have a little more time, we can show you as well the Sisiyi Falls, which are very beautiful and amazing as well.
Wildlife in the East of Uganda is as well very interesting and the Pian Upe Wildlife Reserve is just about 1,5 hours away from Sipi. It is a great opportunity for a photo safari.
If you wish to encounter several wild animals, like Cheetahs, Giraffes, Zebras, different Antelopes like the Roan Antelope, Elans, Jacksons, Uganda Kobs, and others, and a huge variety of birds, we will be happy to take you there and show you this beautiful place.
Pian Upe has been marketed very poorly and most tourists skip this Wildlife Reserve, not knowing what they are missing out on. It is very possible to visit Pian Upe on a day trip while you're staying in Sipi. Once you visit the eastern part of Uganda it is a good opportunity to visit Kidepo Valley National Park for a safari. We are also happy to take you there if you wish. We can help you too with any safari to any other national park in Uganda as well, of course.
Feel free to contact us. We will make sure, you will have a wonderful time in Sipi, exploring the Sipi Falls.
our top highlights at the Sipi Falls
NOTE: Sometimes I am getting a lot of spam that causes emails to get lost. In case you do not receive any response to your email from me, please contact me on Whatsapp, or send a second email.
About Sam and Sipi Falls Tours
I am Sam, your tour guide at the Sipi Falls in East Uganda. Sipi is well known by many visitors, especially hikers and nature enthusiasts. The Sipi Falls is a true gem, which is worth visiting when you are traveling in eastern Africa.
I am specialized in guiding our guests to the famous Sipi Falls and many other activities in Sipi, those who visit Sipi fully engage in the community, showing the best places off the beaten tracks.
Hiking to the Sipi Falls with me is a unique experience you won't forget easily. You will experience the best views and spots of our magical region.
You will enjoy the roaring waterfalls, plantations, local farms, forests, and magnificent views. Most of our guests are surprised beyond expectations by the beauty they experience at this amazing spot on the edge of Mount Elgon.
The only best tour activity company you need for your ultimate sipi falls experience! Sam and Sipi falls tours is your gateway to the east the hidden gems of 🇺🇬. I highly recommend 👌 Sipi falls tours for everyone visiting sipi.
I booked a sipi falls hike and a coffee tour experience last weekend with Sam and it absolutely amazing 👏! Sam is a superlative sipi falls guide for all your tours at sipi. We enjoyed our experience to the fullest through Sam because of his knowledge and love for conversation ❤️. I highly recommend everyone to him for your perfect sipi falls experience!
What are the absolute highlights of being in Uganda was going to Sipi Falls and meeting Sam. Sam is a knowledgeable guide about the whole country of Uganda. Sipi Falls is absolutely beautiful and offers many adventures with Sam as the guide. He also arranged our safari on the other side of Uganda which was amazing. Loved Rafiki Hotel and the sunset dinner they provided on the end of the plateau with amazing views for our group. Sam will deliver a wonderful experience for you and your family or friends.
Ketrinah Kessa
2023-04-24
I booked my tour of sipi falls hike, coffee tour and abseiling and it all went well with the help of Sam from sipi falls tours a local tour operater in sipi falls for all your tours in sipi and mount elgon! Sam is a great sipi falls guide try out by yourself! Am already planning to go back!
Asoka Shongz TUNAPONGOLE
2023-04-19
As a tour guide in #karamoja,it's been very big pleasure to receive you guys and support our local karimojong people generously It is a planting season and everyone here already put their seeds down to grow but it's going to be untill a few five to six months that we in karamoja can have food Your timing to this has been perfect and karamoja appreciates all the beautiful hearts you showed to us I personally want to thank you very much @sam a very experienced guide from sipi falls and welcome you back to karamoja again See you soon
Travelled to Sipi for a weekend with no real expectations other than getting out of the city. At the hotel we asked about possible activities and were directed to Sam who listened in to our needs and interests and arranged the most perfect 1,5 days for us. We travelled with 3 kids under 8 and my 70-year old mother with knee issues - still, Sam found away to get us around to experience up front the beauty of the area. Sam himself is just such a pro: ready to share his vast knowledge at the right moment but also happy to leave us to peacefully enjoy the scenery. Always friendly and flexible. Our toddler absolutely adored him! We went for a sunset walk and ended up up the top of a hill by a picnic table with a cook drink when a thunderstorm came in across the mountains and offered us the most spectacular views. We also did a waterfalls walk and the coffee tour - both highly recommended. Through Sam and Sipi Falls Tours a door was opened up for us to this beautiful spot on earth where we created memories for life. Ever grateful for that and can't recommend Sam enough.
We had a great time with Sam. He was good at answering our questions and he is a friendly tour guide. He knows the routes well.
A very beautiful scenery and amazing people around.
Miriam Mutonyi
2022-12-03
THERE IS SOMETHING SPECIAL HIKING WITH SAM! We contacted sam through WhatsApp +256781827693 and he quickly responded to us, since we had no information about the region and he helped us to arrange everything from transportation to accommodation and the activities he offered to us himself! Sam is the real goat(greatest of all time) he made sure we enjoyed and captured every beautiful moments of us. We did the 3 sipi water falls, coffee tour experience, abseilling the water falls and a rewarding sunset walk to a little plateau in sipi where you can see the sun go down and all yhe 3 water falls in a close distance and a view of mountain Elgon. This guy's at sipi falls tours are outstanding and i will recommend everyone to them visiting sipi falls the little paradise in the east. We already made plans to hike with sam to the peak of mount Elgon, the oldest volcano in Africa with a worlds largest caldera in the entire planet. Can't wait to go back.
mike chemonges
2022-07-10
The spray of the water falls is more than amazing ask Mike your site guide on +256705711761
All You Need To Know About Sipi Falls Before You Go
Sipi – a destination where beauty and serenity slay together!
And it's until you visit Sipi that you don't really realize the importance of visiting and staying in such a beautiful place like Sipi. By the time you pack your stuff and travel to Sipi, you will understand the different beauty it beholds from other tourist destination landmarks in Uganda, the pearl of Africa!
Below we have answered all questions frequently asked by our guests!
Where is Sipi Falls found or located?
The famous Sipi Falls is believed to be one of the most romantic waterfalls in the country and it lies on the edge of Mount Elgon.
It takes you only a 1-hour drive to arrive at your destination (Sipi Falls) following the Mbale-Muyambe- Kapchorwa road for about 50km. Sipi is located on the slopes of Mount Elgon at an elevation of around 1,750m above sea level.
The Weather at Sipi Falls
Before you arrive at Sipi falls, we believe it's good to know how the weather is here. Sipi is near Mount Elgon National Park(forest)meaning we encounter rain most of the time and statistics say on average, it rains 300 days a year with a precipitation of 2.205mm.
The residents also believe that the coldest months are June and July with 15.2'c average temperatures and the months with more sunshine are January and February extending to March. In those dryer months, our beloved Sipi Falls tends to reduce its water levels but still remains beautiful.
Now you have some basic knowledge of what to pack before you come. Remember to pack your rain jacket.
Some of the best tours in Sipi Falls
The magical "Sipi falls hike" which leads you to the three major waterfalls in the region. The Sipi Falls hike is the most popular outdoor activity in Sipi falls and for you to enjoy it also not be over-charged for entrance fees. We recommend you book a trained guide. We at sipifallstours are happy to help you.
Are you a coffee lover or want to know everything about coffee? Then a Sipi coffee tour is just for you. This tour enables you to learn all the 10 stages of coffee processing before it reaches your final cup!
For some bit of a rush adrenaline experience, the Sipi Falls abseiling is highly recommended. Abseiling is done at the tops of the Sipi falls with a height of 100m beside the falls.
The Sipi sunset and sunrise walk is a great one for romantic moments. This activity brings you to a Sipi plateau or the "kings point" where you are able to watch the sun going down and also when it rises with impressive paintings in the sky.
How much are Sipi falls fees?
Actually hiking the three Sipi waterfalls is UGX35,000 for local tourists and foreigners is US15 per person, this fee includes entry fees to all the falls, guide allowance, ladder maintenance, and community levy.
How much is Abseiling in Sipi Falls?
Abseiling the Sipi Falls in Uganda is just 50 USD per person and the entire trip is about 1 and a half hours together, including the hike up.
Where can I go or do Abseiling?
Abseiling is majorly popular or done in Sipi Falls, the eastern region of Uganda. It's the only best abseiling area in East Africa.
Beginner abseiling is also done in Kampala and for more information go to their website mountain climbers Uganda(MCU).
But for real action read here on our website.
What is the best time or period to visit Sipi Falls?
As you know the four common seasons-summer. Spring, winter, and autumn, Uganda has got a tropical climate of only two seasons and these are the two rainy seasons and a wet season. We will say Sipi falls is a must-do throughout the year because temperatures are rather consistent and also warmer!
But travelers seeking a taste of the region's cool climate and outstanding sunsets are welcomed on dyer season.
The dry season is the best time to visit because the trail's coming to the falls are dry and not slippery. However, on days during the wet season, you will see the roaring and the magic of these cascading waterfalls. At this time the falls are so powerful and larger waiting to visit by you.
During the rainy period, we shall give you some walking sticks to help you not to fall down because the waterfalls are at their full force and we don't want you to miss these. The landscape is so green too!
What is the altitude of Sipi Falls?
The Sipi Falls is found or lies at an altitude of 1,800m above sea level and it's so favorable for hikes but a bit muddy in the rainfall season.
Which is the best accommodation in Sipi Falls?
Of course here is all about how you are going to break your wallet.
⁃          LACAM LODGE with a spectacular view of the Sipi gorge and it's near the top of the main Sipi Falls is a mid-range lodge serving Endiro coffee taste meals.
⁃          RAFIKI LODGE is found on the cliff with a great view of the major waterfalls. Mid-range lodge.
⁃          HOME OF FRIENDS GUEST HOUSE is located in Kapchorwa town just 25 minutes drive from Sipi falls. This is for you if you are looking for value for your money!
⁃          SIPI HERITAGE LODGE the former SIPI RIVER LODGE just on the Sipi river banks with the highest price in the region.
⁃          SIPI VALLEY RESORT is one of the new lodges around Sipi falls with manageable prices and a big compound with a view of the gorge from the other side.
⁃          SIPI FALLS LODGE the former SIPI FALLS RESORT with some straight commanding views of the main Sipi Falls.
Where can one have the best Arabica coffee Sipi Falls?
First, Sipi Falls is a famous coffee arabica region on the edge of Mount Elgon every household has a small coffee farm and they mainly produce their coffee and sell it to kawacom or kyagulanyi coffee buyers and exporters in the whole country. I know every coffee lover is waiting for the good news, and the good news is going to grab your fresh cup of coffee,
> Sipi coffee shop (Sipi cafe, cup of Joe) just along the main road in Sipi center.
> Endiro coffee shop at Lacam for cappuccinos, Americana and lattes.
> Zukuka Bora is also along the main road in Sipi center.
How far are the Sipi Falls from Kampala?
According to our experience, A drive from Kampala to Sipi falls is between 5 to 6 hours depending on the traffic jams. Around midway, it is recommended to stop over at CAFE JAVAS in Jinja and have a coffee or snack, before continuing to Sipi.
From Jinja to Sipi it takes roughly 3 hours.
How much is from Mbale to Sipi Falls?
It's between 10000UGX and 15000UGX from Mbale to Sipi Falls and you can find taxis coming to Kapchorwa on Kumi Road.
Most of the taxis proceed up to Kapchorwa town so make sure to tell the driver to drop you off at Sipi trading center near Sipi coffee shop and try to avoid street guides.
Who are the native people of Sipi Falls?
The indigenous people of Sipi Falls comprise a cocktail of the Sebei and the Bagisu tribes who live on Mount Elgon a mountain that gives Uganda beautiful scenery. And below the main valley is occupied with some Itesots, the Basoga, and the Bagwere tribes which are all a big source of tourism in the hidden treasure of the east.
The history of Sipi Falls
The Sipi Falls derives its name from a local Sabiny word "sep" meaning falls.
They found a lady who was collecting local plants and they asked her what is the name of the falls. And she quickly replied Sep thinking they were the name of the plant, the language barrier was the problem.
What other activities can I do at Sipi Falls?
The area around the famous Sipi falls is rich with a lot of things to do and it cannot be explored or even enjoyed in one day. Besides some of the major activities like the Sipi Falls hike, Abseiling, or coffee tours, Our visitors can choose to part take in other activities like,
Hiking Mount Elgon: Did you know that Sipi falls is one of the major areas for people interested in some more extra hiking challenges? Mount Elgon is the fourth-highest peak in East Africa and is an extinct-standing volcano. The highest point is called Wagagai 4321m above sea level and is the world's volcanic mountain with the largest surface area (Caldera) and is shared by Uganda and Kenya, the largest portion and the peak is in Uganda. Of course, the factors mentioned above make climbing the mountain a great achievement for hikers around the globe. You need between 4 to 6 days to reach the top but this depends on your general fitness and experience. The fast hikers do it in 3 days.
Visit the Nyero Rock paintings: To see some real old paintings on walls, we welcome you to the Kumi district about a 2-hour drive from Sipi Falls where these paintings are found. This site has different sections with different drawings on the walls with some rich history behind them, these rocks have so far attracted many visitors around the world, and it gives a glimpse of how the ancestors lived many years ago.  Up to now, the local community around this area considers the place sacred and believes the local gods still live here.
Pian Upe wildlife reserve: For wildlife lovers, Pian Upe game reserve will give a taste of some of Uganda's wild animals like the Roan antelope which is only seen in the whole country, kudus, cheetahs, ostriches, and gazelles plus many more. It's only 1 and half hour's drive to this reserve from Sipi Falls.
Kapkwai Forest Exploration Center: This is a great opportunity for hikers with limited time or for those who can not manage to hike for several days to reach the top but want to taste a small hike at the base of Mount Elgon or say I hiked Mount Elgon.
Kapkwai has different options for day nature walks inside the park. Mount Elgon is a birding paradise with over 300 species including 40 restricted for only this region and 56 of the 87 Afrotropical highland biome species live here like the Mustache green Tinkerbird, Moorland Francolin, and the Alpine chat. If you are a bird lover, this might be very interesting for you.
The center is good for school students who are learning about forest conservation it's just 12km from Sipi falls and the drive up here is a no-go during heavy rainy days.
The Wannale waterfalls hike: is one of the most beautiful hikes around Mbale city. The falls cascade down on a sheer wall to the valley below with some spectacular breathtaking views of the entire city, Teso region, Tororo rock, and of course the famous Mount Elgon and its surroundings.
About Kapchorwa, Mount Elgon, and Sipi Falls in Uganda
Actually, Sipi falls is located in a district called Kapchorwa about a 6-7 hour drive by taxi or bus depending on the traffic around Mukono and Seeta, by self-driving, it can take 4-6 too depending.
This journey brings you to the hidden treasure of the east in Mount Elgon at the border of Uganda/Oeganda and Kenya through the Mabira forest. Passing Jinja, where the river Nile starts its journey as the longest river in the world.
Mbale city welcomes you with some beautiful slopes of Mt Elgon behind it as you embark on your journey to the mighty little hiker's paradise in Sipi falls for about an hour's time from Mbale city.
Kapchorwa is a district on Mount Elgon, and the word Kapchorwa means home of friends in the local language.
The people staying up in this mountain are only two tribes and the dominants here are the Sabiny with a very little percentage of Bamasaba/Bagisu in Mbale city both famous for their finest Arabica coffee in the world market!
The Sabiny people extend up to Kween and Bukwo districts and they speak a language called Kupsabiny if you don't want to forget it you say (cook some beans).
Even the bottled water you drink in some lodges or hotels in Uganda has the word Aqua Sipi and it has a meaning in our local language still, the word Aqua Sipi means, "come to Sipi" in Kupsabiny language.
Kapchorwa got their district in February 1962 before Uganda's Independence Day 9th October 1962. The population of Kapchorwa at the time of independence was 48,700 compared to now around 123,800.
Also in 1952, Sir Andrew Cohen who was the governor in Uganda up to 1957 was invited to Mbale by Semei Kakungulu a Ugandan statesman and a founder of the Abayudaya community in Uganda in 1917. Semei Kakungulu studied and meditated on the Old Testament and adopted all of Moses's commandments including circumcision and suggested all this observance to all his followers.
The visit of Sir Andrew Cohen in Mbale also ended up in Kapchorwa Sipi falls where he got in life with the falls, weather, and the landscape and he did not stop just from admiring, he went back and later returned and requested the community for a small piece of land at the main Sipi falls viewpoint now called Sipi falls lodge, he was given the land and he started to build a small house with 2 bedrooms, sitting room with a fireplace inside the house, self-contained and named it Sipi Rest Camp because his intention was to rest from here after his work.
He later started writing letters to his family friends and other people encouraging them to visit Sipi falls of course, after staying and eating they have to pay some money and this was given to the community after his contract in Uganda got finished, he advised the local community to put more cottage's because he saw some increase in tourists coming and later the community started renting this whole camp to different people for a small period of time and up to now you can also rent it and enjoy a great time in Sipi.
Kapchorwa is also a home district for one of the long-distance runners known as Stephen Kaprotich a marathon gold medalist for men in the Olympic Games in London 2012.
Since the Sabiny people were cattle keepers before the nearby Karamojong raided their cattle, they termed it in 2020 summer Olympics when they sent their beloved son Joshua Cheptegei to Tokyo for the 5000m that he has gone to bring back our cows because the word Tokyo in our language also means our cows.
Inside Sipi, there is a small center called Kapkwirok but nowadays everyone calls it Sipi because it's easy to remember, the word Kapkwirok means a place where people in the community come together and have meetings and the next village is Chema where you find a factory Kawacom Sipi falls wet mill for coffee. And Chema in our local language means fire and it's believed that fire started from here because if you go back in the days, you will find that the man who called himself Kintu a mythological figure who appears in a creation myth of the Ugandan people of Buganda, Uganda. And according to these legends, Kintu was the first person on earth and the first person to wander the nature of Uganda alone imagine that. And if you go deeper in history it's possibly believed that this first Muganda (Kintu) must have originated from Mount Elgon and the local people think this fire 🔥 remains they found in Chema must be related to Kintu.
Naming in this region of Kapchorwa, Sipi falls.
Names were given depending on the location, time, season, Christmas, and sometimes if there is an event.
Names.
1 Sammy >means born in the bush.
2 Cheptegei >born on the Veranda.
3 Sukuku >born on Christmas.
4 Cherop >when it's raining.
5 Chebet >born in the daytime.
6 Cheptoek >when visitors are at that home.
7 Chelimo >when they are bringing cows back home from the bush.
8 Cherubet >born when there is famine.
9 Cherotin > was born on a banana plantation.
10 Amwanyi >born on a coffee plantation.
11 Chesakit > given to a person whose mother only took local herbs to conceive him/her.
Nicknames in Kapchorwa, Kween, and Bukwo.
1. Ndeetee> means a person who eats a lot of Matoke.
2. Mawe > A person who is so hard to realize something.
3. Wakabe > A person who is so hard working.
4. Kaswayik> A person who is a womanizer, Kaswayik is a bird with a long tail called pine tail whydah and this bird is also a womanizer and I believe birders know this!
5. Sundet > A person who eats only fatty meat.