Abseiling / rappelling the Sipi Falls
the most instagrammable activity in sipi
WATCH THE ABSEILING VIDEO BELOW
as well as more information about the abseiling experience
For adrenaline seekers, abseiling Sipi Falls is definitely the activity one must do. Standing on the top of the highest Sipi waterfall you will get a short briefing about the abseiling. You will put your abseiling gear on and get to the edge of the drop-off. This is when the adrenaline kicks in.
Slowly hang your body off the cliff and start with the slow descent to the bottom of the waterfall. You will have time to enjoy the amazing view and have a mind-blowing experience.
The instructors will take good care of your safety and take pictures, and videos of your abseiling experience.
This abseiling activity can be very well combined with a hike to the 3 Sipi waterfalls.
What to bring to the abseiling activity
Please bring enough water, especially if you want to do the hike of the falls before.
Sun protection
Swimming suit if you want to take a dip at one of the pools, on your hike to the falls.
Hiking shoes or at least good sneakers.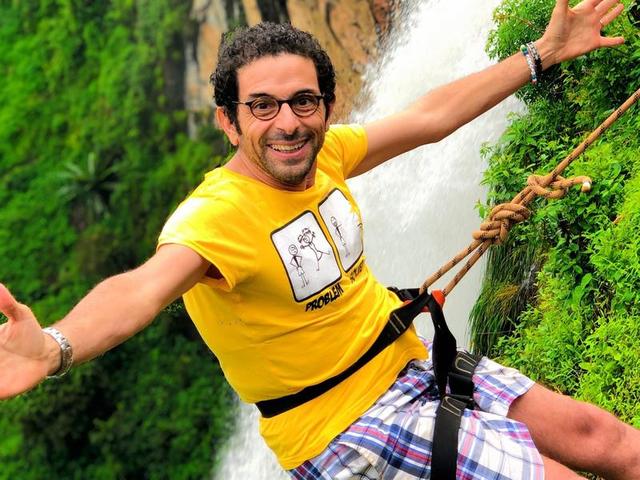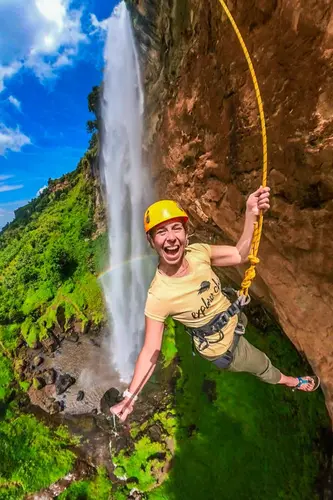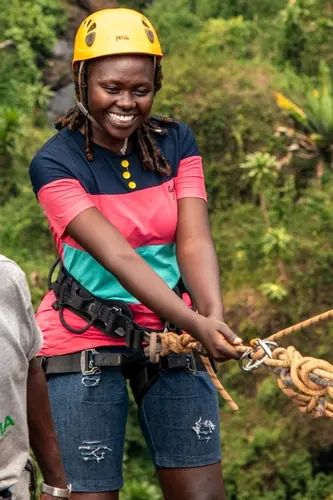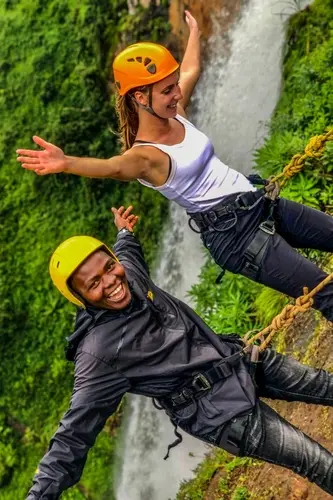 Sipi Falls abseiling price per person
Foreigners: $ 50,- / UGX 185.000
Ugandans: $ 40,- / UGX 150.000
In this abseiling video, you can see what the abseiling experience looks like and what to expect
All you need to know about Abseiling Sipi Falls Uganda.
What is Abseiling?
It's an activity that involves descending a natural rock, mountain, or an artificial wall/structure using a rope in a controlled manner from the top of the mountain, cliff, or wall and is also known as Rappelling in the United States.
Want to know the difference between Abseiling and Rappelling?
The difference here is the names only but they both mean the same thing the only difference is that Abseiling is descending by means of a rope more like abseiling yourself while Rappelling is descending by means of another person holding your rope till the end.
The United States and Canada use this technique of rappelling while the United Kingdom and Europe use abseiling but all the same, techniques involve.
The origin of Abseiling or Rappelling?
Its origin dates back to 1879 in the Alps to reach its highest peak and since then, this recreational climbing activity became so popular both indoors and outdoors in beautiful different nature destinations in different parts of the world. Also, the Sipi falls Abseiling started around 2000 and it has attracted many tourists to mount Elgon Sipi falls in Eastern Uganda the hidden gems of the east.
Sipi falls offers a beginner abseiling experience at one of the volcanic rocks near Moses's campsite about 60ms high. But the long 100m plus descent down at the backdrop of Sipi falls will leave you feeling like a pro. The team at the Abseiling point both from up and the bottom will cheer you up, make some noise like leave the rope, fly your hands like a bird as you enjoy the view of the waterfalls just 7ms next to you and some beautiful views of the sky while you are in the middle of the falls. They only do this for you so that you earn the best experience ever with incredible photos and videos for your memories, family, and friends back home!
Equipment required during the Abseiling?
Abseiling is a rock climbing sport in its essence and its equipment is all there to minimize your safety during it.
Needed Equipment!
>Ropes
>Climbing Harness
>Gloves
>Helmets
>Rappel devices are locking Carabiners
All Equipment is provided at the site
Best time to do Abseiling at Sipi Falls?
Afternoon hours are great to start off your Abseiling tour because there is enough light for your photos and videos and it can also be done throughout the day depending on the weather conditions and your schedule. But in the mornings sometimes the light is great too.
Some different types of Rappelling
• Standard rappel
• Simul rappel
• Fireman's belay
• Military rappel
• Hanging rappel
• Australia rappel
• Tandem rappel.
Tips
• Safety is the order of the day and a number one priority.
• Listen to the instructors at the site.
• The instructors are skilled in this field.
• The equipment is from the factory and approved for human consumption.
• It's not a local arrangement, it's an international one.
• The view at the bottom is worth!.
• After Abseiling, we recommend you tell your driver guide to pick up from down and if you don't one, the team at the top can arrange a Boda Boda to pick you up depending on your level of fitness because the hike up is so amazing but not for everyone.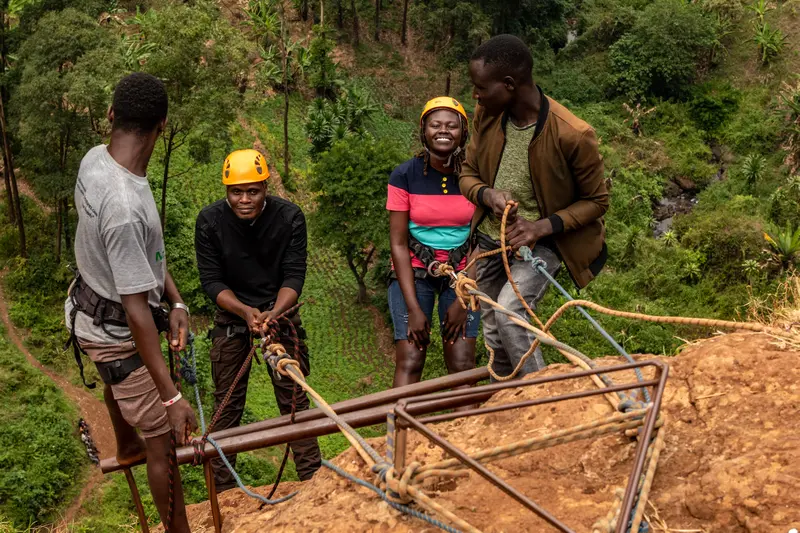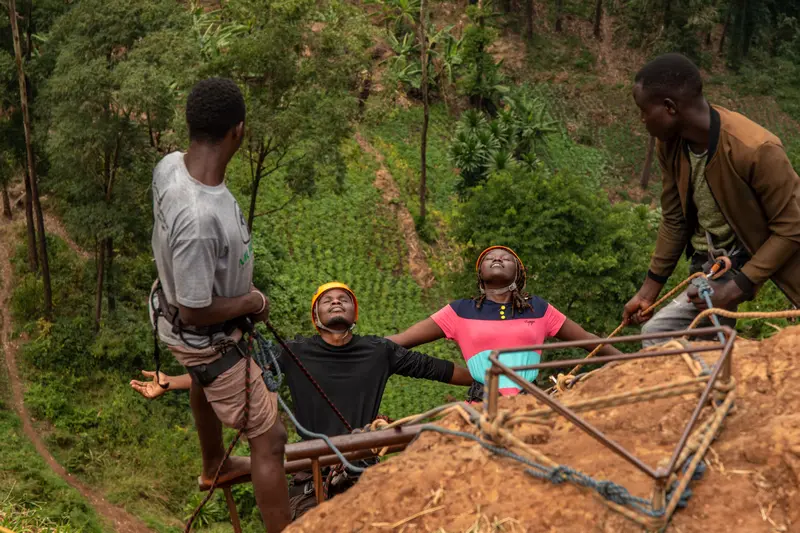 Did you know you can also do rock climbing near Sipi Falls?
If you are interested in that activity, check the link here.
Some abseiling techniques blend with a little story
Techniques and how to rappel safely
Now you have got some little basic theory of Abseiling, rappelling or rope down the cliffs, and even basic equipment/gears you are required to use. Then allow us to explain a few techniques of abseiling in our beautiful Sipi Falls with some commanding awe-inspiring views over the Sipi gorge, the flat plains of Karamoja stretching across Lake Kyoga with a close view of Sipi plateau where some of those marvelous sunsets happen while you spin around the back of the falls.
But of course, being shown to see in real life is so far easier than seeing some written instructions here, but we shall give it a shot.
Step 1. Please start off by dressing in your gear for Abseiling for example put on your harness, helmet, and gloves and surely you need to attach your belay device to the gear loop on your harness and this requires a karabiner.
Step 2. The next thing is you also need to attach your rope on a "proper' anchor at the top of the cliff, wall, or a tree where you are almost to abseil off. By "good" we mean anything that is not going to break off when you have just kick start or at the middle of this rush adrenaline experience. And this shouldn't be a frozen mars bar.
But for your own information, all the good news is, the Sipi rocks where the Abseiling is done from next to the falls are a "volcanic rock" made of interlocking crystals and usually never breaks because, during the eruption, the magma escapes to form earth surface, the lava flows and cools down slowly firmly forming very hard volcanic rocks as well as volcanic glass.
Step 3. Attach one end of your rope around the anchor you have decided to use. All solid? and good. Then here comes the time to thread your rope through your belay devices and you should be connected in friction harness, device and all.
Of course here you are already ready to go. Meaning you have double-checked your anchors, and gears, and the knots should all be secure.
Then it's the right hour to rappel.
Now face your anchor and walk baby steps back to the edge of the cliff. To be honest, this is the weirdest part of it and it's natural to many "according to Chebaimo Backson" the first Abseiling instructor in the entire region and he has also nicknamed himself "the son of the rock".
He also added that this rock has been his playground since his childhood and he has been talking to this rock every day and night. He went on and said no one understands this rock better than him and it's the reason why he offers the best abseiling adventure trips at the edge of Mount Elgon, a mountain shared by Uganda and Kenya and it offers many hiking opportunities for both local and international tourists.
Backson loves his job and he likes sharing his story with different people. He said he used to climb this rock like a mountain goat when he was very young at the age of 10 years old that was in the 1970s. And lastly, Backson said also that he used to swim at the bottom of the famous Sipi falls during summer times because he lived very close to these falls where abseiling takes place.
Step 4. At the time when you are reaching the bottom, ensure to put down one of your feet first followed by the other for proper landing as you continue pulling the rope until you are a bit away from the bottom face.
But of course, the good side of it for Sipi Falls Abseiling is that there is a part of our team, down at the bottom, which will receive you as you approach the bottom. They will help you to un-tie your harness, rope, helmet, and gloves.
Danger and Safety
Just to put it right, naturally, humans have what is called human instinct, which is generally and automatically against walking backward on a mountain/ cliff edge.
And there are more ways that your Abseiling can become risky as we know you can tell and there are many safety points to take into account. But all this be made very simple by just having an instructor at the top by your anchor, holding you on the second safety rope, and remembering you are abseiling, just in case anything goes bad, the instructors have you on their safety line.
Let's dive into the language given by the Sipi Falls abseiling crew with lots of experience during their briefings before the adventure begins. And trust me what you will like most is the language these guys use while communicating to you very professionally and calmly and this gives first a lot of confidence.
Master these words: 
Lean back
Spread your legs a little bit
Walk baby or smaller steps
Don't bend your knees
Make sure the back of your foot touches the rock 100%.
Take your chest out
Go over the pulp
Leave the rope.
Actually leaning back is very important because this helps you to feel that something is holding and that is nothing but your safety harness attached to your rope and the anchor. Once you feel this, you are able to leave the rope and this proves to you that you are on attach to the second safety instructor's rope. This will make you feel safer!
Spreading your legs a little bit will easily earn you more stability and confidence with one of the best life experiences. The reason behind all this is to help you not to swing sideways because this can be uncomfortable for many people. The team will also keep talking to you and telling you what to do until you reach the bottom with a warm welcome from the bottom team.
The cameraman will tell you to leave the rope…and shoot the waterfalls. But don't kill it we still need it. All this is just for him to capture your best photos and videos all the way down!
How to abseil safely 
We have got a number of things that you can do every time you abseil to avoid the risk of an accident. 
Look carefully for a well-recommended climbing company to abseil with.
Make sure you tie knots at the end of your rope so that you don't slide off at the end.
Ask your instructor again before he starts abseiling you if the knots are tied well.
Of course, it's a good idea to tie an extra knot to form a brake, known as a Prusik knot.
It's better to keep in mind the four tips explained above are by no means a direct replacement for proper professional training.
These are just useful reminders to make sure you remain as safe as possible!
You made it!
If you liked it, share your experience with your friends!!!