Chebonet
Clear Waterfalls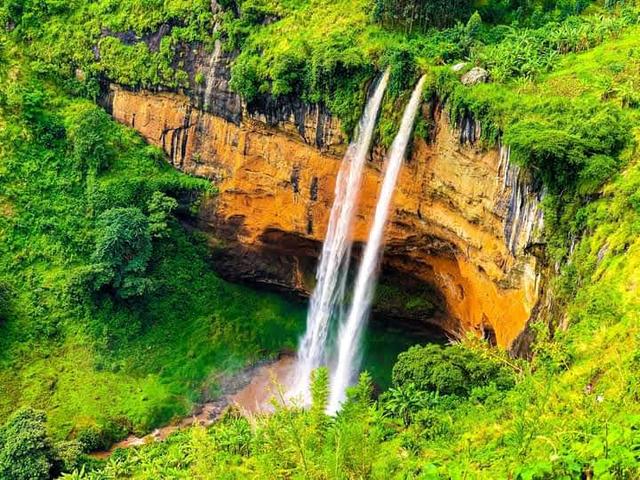 Located on the north edge of Mount Elgon, far from the main travel destinations are the Chebonet Clear Waterfalls. It is a beautiful landmark in the eastern part of Uganda with amazing views of the Karamoja region in the far distance.
Within a hiking distance of about 3-4 hours from Sipi you can reach this place. For those who do not want or do not have the time to hike, it is possible to get closer by car.
The waterfalls are remarkable with an amazing view. Being on top of the waterfall, you will have a great view of the falls and the valley. It is also possible to hike to the bottom of the falls.
Get in touch with us, we are happy to guide you and show you this amazing place.
Price per Person
Foreigner: $ 20,- / UGX 70.000
Ugandans: $ 12,- / UGX 40.000
Mount Elgon is truly the home of waterfalls
Chebonet clear waterfall is located in Kapchorwa district, in Chebonet village about 4km from the famous SIPI falls.
Chebonet falls picks its water from Mount Elgon and gushes it downhill forming up to five different waterfalls starting from the first Chebonet falls inside Mount Elgon national park and continuing down creating more four other falls outside the park before it joins together with the famous Sipi falls river in Kapsinda Sun-county and they continue their journey to the Nile River.
Chebonet falls is the third-highest waterfall after the main Sipi falls with a height of 90m from top to the bottom. In our region only the Sisiyi fall is a bit higher, reaching 100m
This waterfall is incredibly positioned well on the hanging rocks of Chema village on one side and Chebonet village on the other side.
The Chebonet waterfall is one of the most thrilling falls lying on the slopes of Mount Elgon, cascading through rocky ridges as it meanders down to meet the river Sipi at Chetoi forming a combined fall called Toyabei and proceeds its journey to Lake Kyoga before it joins the Nile.
The vast stunning views overlooking the hanging valleys and the flat plains down make it stand out as the most beautiful waterfall in the region. The hike is more of a sightseeing and nature walk within the community and this gives you a pleasurable adventure experience of a lifetime.
Chebonet falls is less known, and it doesn't receive a lot of tourists year-round because most people end their tours at Sipi falls and forget about this beautiful garden of great immensity with more than five waterfalls in a row.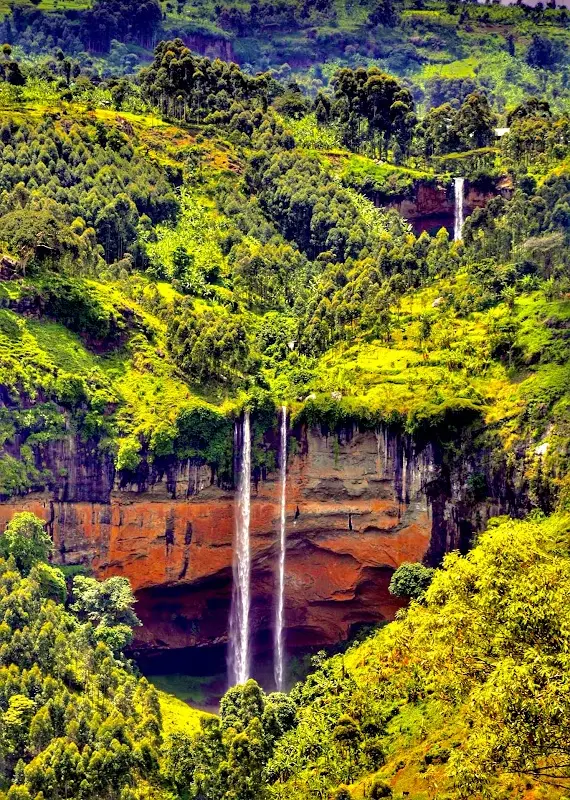 Why you should visit Chebonet falls
You will be hooked after your trip. If you love exploring new places, learning about people's cultures, immerse yourself in their ways of life and doing things, you will find it in this area, the birthplace of beauty, quite attractive and a gorgeous gorge below.
Chebonet has something that will resonate within you that you will find romantic and you yourself will tell us that thing on your next visit.
This nature walk offers a far warmer and more adventurous travel experience, an experience unmatched by any other.
If you are seeking spiritual healing and rejuvenation, then you should visit Chebonet falls because it's very beautiful, peaceful, and pleasing. The essence of its appearance is remarkably simple.
If you wish to explore God's marvels, go east and see the Chebonet clear waterfalls!
Is Chebonet falls more beautiful than Sipi Falls?
Yes, of course, Chebonet falls is more beautiful than Sipi Falls because of its appearance and that is the reason they called it Chebonet "CLEAR" waterfalls!
Chebonet is a gem of wonders of its own.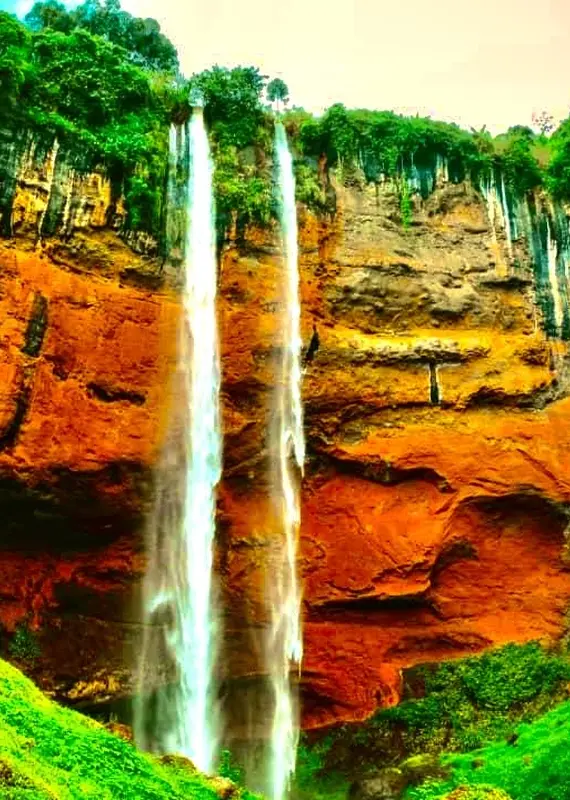 Hiking in Chebonet waterfalls
Chebonet falls sits at an elevation of 1,850m above sea level. It's a strenuous and often muddy walk during the rainy season but the effort is worth reaching!
When you stand on top and look at the beauty of the double falls of Chebonet, many have said that you will feel your worries and woes fade away, and all of a sudden, you will not remember your aching feet and mud-stained trousers from your long hike.
To arrive at this fall, it takes an average of three hours of hiking and passing through semi-rugged terrains.
The views at Chebonet are worth it though!
Also, the sky's reflection of the pouring water like glass creates a breathtaking atmosphere and amazing landscapes around the falls.
Did you know that Chebonet waterfalls have a smell that can fill your senses allowing you to truly appreciate the surrounding nature with every breath in?
Chebonet falls vs Hikers?
You will come to know that the satisfaction and joy of understanding that you have witnessed something special with your both eyes will bring tears to many lucky hikers who accept to travel all the way far to experience this adventure in this remote area and it is recommended for them to bring their cameras to capture memories and evidence of Chebonet falls!
What to expect on a Chebonet falls hike
The majority of this walk follows the main road,  making it so easy to access. The trail leads you through the local community and different farmlands.
This hike is quite therapeutic and it will allow you to relax and wonder about the beautiful surroundings.
But if you give us this opportunity to guide you on this Chebonet hike, you will appreciate it even more and more because we have developed our own unique trails off the beaten path up to the falls. Our trail starts from the top of the main Sipi falls depending on which lodge you are staying in the Sipi area.
This trail is about 3 to 4 hours depending on your fitness and it passes along the cliffs only giving you all those views of the local communities below and the flat lands of Teso, Karamoja plains, and Pian Upe wildlife reserve with some magical views of Mount Kadam. You might even see some wildlife on the way.
What is the best time to visit Chebonet falls?
The best time of hiking in Chebonet falls is in the dry season just like hiking the Sipi Falls because it can also be comfortably combined with the Sipi falls hike and can be done in one day together.
What is the weather look like in Chebonet falls?
There is rainfall almost throughout the year and the average temperatures in Chebonet are 20'c during the day and around 12'c during the night. Rain is common between March and June.
What are some of the best tours in Chebonet?
The popular Chebonet hike is the best activity here. Rock climbing, a sports experience is also done near the falls. Abseiling beside the falls is another activity.
Nature walks in the community. Chebonet falls offers breathtaking views which are not easy to find anywhere in Africa.
Where can I stay in Chebonet falls?
All the tourists who visit Chebonet Falls stay at Sipi. Sipi falls offers a number of hotels, lodges, Resorts, and campsites to suit your budget.
Below are some recommendations on where to stay on your visit to Chebonet falls.
Sipi heritage lodge-mid-luxury
Lacam lodge-mid-range
Rafiki lodge sipi-mid-range
Sipi falls lodge-mid-range
Sipi valley resort-mid-range
Crowns nest campsite-budget
Moses campsite-camping.
Please feel free to contact us in the matter of accommodation too, we are happy to help find the best solution for you.