Things to do in Sipi
our activities – there is a lot to do in Sipi
Sipi, in the Kapchorwa district, offers many activities and you can always discover what to do in Sipi. Sipi is located on the slopes of Mount Elgon, in the eastern part of Uganda, close to the Kenyan border. One of the favorite things to do in Sipi is Abseiling Sipi Falls and a Hiking tour to the famous Sipi Waterfalls.
Exploring Sipi Falls in Kapchorwa will give you opportunities to get to know a lot about this beautiful region. You will have a chance to get to know more about Mount Elgon and its history. Mount Elgon is also very well known for its great Arabica Coffee next to the trekking expeditions to the Wagagai peak at 4321 meters asl.
During your hikes at Sipi Falls, you will walk through several coffee plantations and get the chance to see how coffee is grown during a coffee tour. If you are interested in coffee, you will have the opportunity to visit farmers and learn how coffee is grown and processed, till it finally reaches the consumer enjoying his cup of coffee.
There are a lot more things to do in Sipi and we will be happy to guide you and show you the must-see places.
Some of the best activities in Sipi are listed below. Feel free to contact us for your personalized trips in the region and what you can do in Sipi.
We also offer Safaris to all National Parks in Uganda. We can customize a Safari trip tailored exactly to your preference. Feel free to contact us or visit our website https://come2uganda.com for more information.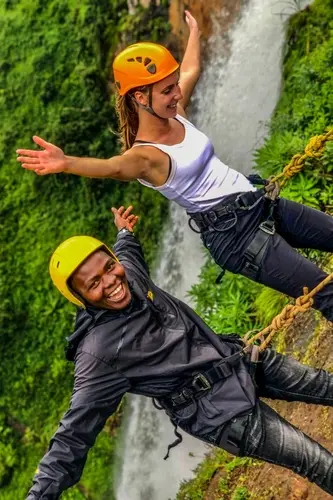 Hiking in Sipi & Nature Walk
Sipi offers beautiful hiking trails for different difficulty levels. We accompany you on your hiking trips and show you the special places. You will get insights into the way of life of the local community.
CLICK FOR MORE INFO
Coffee tours
On Mount Elgon grows one of the best Arabica coffee. When staying in Sipi, you are welcome to come with us on an educational and tasty coffee tour. The coffee experience you will love and never forget.
CLICK FOR MORE INFO
Chebonet Clear Water falls
On our Chebonet Clear Water Fall tour we will guide you to this special place. Standing on top of a waterfall is a very uplifting feeling. Join us to hike to the bottom of the waterfall and enjoy the beautiful nature. Come with us to this amazing place.
CLICK FOR MORE INFO
Sunrise & Sunset walks
Join us for a romantic walk to a gorgeous place, where you can watch beautiful sunsets or sunrises. This historically special place  is amazing and you will enjoy a breathtaking view.
CLICK FOR MORE INFO
Cave exploring
There are several caves around Sipi with lots of history. Join us on a cave exploring and adventure tour to learn more about the ancient times of this region. Feel the lifestyle and challenges of the ancient people.
CLICK FOR MORE INFO
Abseiling 100 meters
sipi falls
At Sipi Falls you have this great opportunity for abseiling / repelling. We have a trained and experienced team that will be happy to let you experience this extra portion of adrenaline. The activity you won't forget and you should do.
CLICK FOR MORE INFO
Bird watching
The Sipi region is also home to many bird species. For bird watchers, it is a great opportunity. Come with us to the best birding places where you can spot the birds of our region. If you are a bird lover, come with us.
CLICK FOR MORE INFO
hiking Mount Elgon
If you want to undertake some hiking expeditions to Mount Elgon, we are ready to guide you. Come with us on a 3-days or 5-days tour, according to your preference. Lets summit the peak at 4321 meters above sea level together.
CLICK FOR MORE INFO
Mountain biking
If you want to get more active and explore Mount Elgon with a mountain bike, we offer you great mountain bikes in good condition and instruct you on the best trips.
CLICK FOR MORE INFO
Rock climbing
For rock climbing enthusiasts, there are several routes with different levels from easy to difficult. In total there are 14 routes. You do not need your own gear, we can provide and our experienced guides will organize everything for you.
CLICK FOR MORE INFO
Hotel bookings,
accommodations in Sipi
There are several great and comfortable accommodations in Sipi for every budget. We are happy to help you with the right accommodation for your stay in Sipi. Please contact us, for more information.
CLICK FOR MORE INFO
Services for runners
We offer services for runners and joggers, running for fun. We know some great accommodations, perfectly located and with good services to accommodate you, even for the long term clsoe to the places where the runners train.
CLICK FOR MORE INFO
More to know about Sipi and activities in Sipi
Where to watch soccer/football in Sipi Falls Kapchorwa?
Sipi is a small trading center and has only two local places to catch a match locally with many other locals in a small hall.
Sipi residents love watching soccer both local and international like Ugandan football, African football, premier league, champions, Laliga, and Series A.
If you are looking for a convenient place to watch your favorite team, then consider Sipi Valley Resort. More places are in Kapchorwa town, drive up to "The Place" (a bar in Kapchorwa town) or Noah's Ark Hotel Kapchorwa and many other places within the town.
All these places only require you to buy a drink and enjoy the match, except in Sipi Center where you are required to pay UGX1,000 per person.
Where to drink local beer at the Sipi Falls?
Sipi Center has two bars where you can join and interact with the locals at the Hive and Chinos bar.
Where to have a good lunch or dinner at Sipi Falls?
Endiro Coffee (Lacam Lodge) takes the lead, they have a menu with a variety of choices and a marvelous view of the Sipi Gorge, Kaptum caves, sunset, and the main Sipi Falls.
Remember, if you are backpacking and looking for something cheaper (food) then head to Sipi center and look for the Sipi tourist hotel (Musobo's hotel) the food ranges from UGX3,000 to UGX6,000 depending on what you order.
When it comes to problems with your vehicle
If you arrive at Sipi Falls and you have issues with your car, you can contact Amos at +256 779 060 463 one of the mechanics who stays in Kapchorwa town about 14km, or reach out to us!